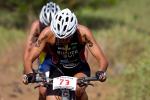 http://www.facebook.com/home.php?ref=hp#!/photo.php?v=10150369326350688
what a race !
with one of the hardest finish I ever had. sprinting up the last hill for the third place and being passed on the last 300m from Helena was not easy. I left everything on the course and was happy about it.
Lesley Paterson is the new world champ and totally deserved it.
special thanks for my support crew back home !
Mahalo
Renata
.