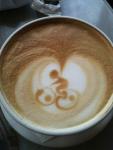 being back home in Luzern.
I love my hometown. www.luzern.ch always something going on, Blues Festival is up coming and the Lucerne Marathon with more than 9000 runners was just last Sunday...hey I was watching !
I really enjoy having a break of training and racing. Time for family, friends and my job. Right now I'm learning all the names of the kids at school. that's tough ! I also told them, that everybody will get a little chocolat, next time I forget their names. I guess, I need a chocolat sponsor soon !
off season means to me; analyze problems and then look forward and making some good plans for 2012.I'm doing that with my favorite coffee cup. Already plenty of good ideas, soon I will share my plans with you.
wish you a good off season
Renata