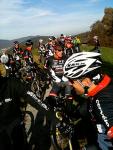 first team meeting of my new racing team 2012,
TEMPOSPORT - exersciences
the meeting started with a mtb ride. I was impressed to see about twenty triathlets riding their mtbikes. Rene Kuster showed us the secrets of mtbiking.
afterwards we moved to a nice Italian restaurant for lunch and meeting the rest of the team, getting the news, sadly also to say goodbye to Karin Thuerig, leaving the team.
that day was a great day and a good start with the new team !
thanks a lot being a member of the Temposport exersciences Team.
Renata

www.tempo-sport.ch/