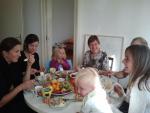 This is the time to drink hot chocolat, to light a candle and to surround ourselves with the people we love. It's the time of year when we like to take a little extra time to be grateful for all the good things in life.

I'm unbelievably grateful for my family and friends, also for all the nice people I crossed this year somewhere on this world.
Thankful for all my sponsors helping me to get through a tough year of racing; 10 Xterra's, 1 mtb stage race, 4 offroad triathlons, 2 halfironman races, 3 run races, 1 duathlon, 1 mountain run and 1 mtb race.
The season 2011 is over, and 'Im full of great memories.
I hope you have a happy and healthy holiday season.

Warmest Wishes,
Renata