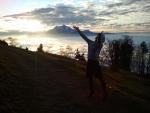 Happy New Year everyone!
It is my pleasure to announce my race schedule and my expectations for 2012.
Before I do, I would like to thank all my sponsors and my support team: the crew Temposport; Rene, Max, Bruno, then Pierre Pompili, Claudio Perret, Gregor Boog, Micky Tronczik, Lorenz Leuthold and a few more great people, unnamed here.
You are all a big part of my happy athlete life ! THANKS.

My expectations of 2012 is to do the best on the Europeanchampionships, 8th of June in France, and on the Xterra worlds in Maui, end of October, then for sure to keep having fun racing hard, being focused for the training, staying healthy and to share the best sport in world with many, many people, also following the way of LIVE MORE !
I'm looking very much forward to the season of 2012.
it will be a good one.
March XTERRA Saipan, Philippinien, Guam
April XTERRA New Zealand
May XTERRA Italy
June 70.3. Switzerland
ETU EM offroad triathlon, Holland
July EM XTERRA France,
Alpe d'HuezTriathlon
August XTERRA Germany, Czech
Sept. XTERRA Switzerland,
XTERRA US Champs
Oct. XTERRA World Championships