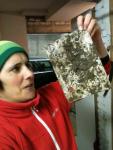 was in Beromünster, close to my house, on the 8th of January.
I could not miss to race it. It was the only one this winter for me.
Got the Cannondale bikes perfectly prepared for the race, included the support crew with Rolf and Tamara, organised by Temposport ! Thanks a lot.
The weather was the typical cyclecross one; mud, cold and the smell of sausages, cigars and coffee along the course!
Raced hard as possible, but.... my technic was not the best. Was sliding and crashing all over the way. Never got to the top racers, just fighting for the 3th and 4th. Somehow I know this situation already !
Finally finished 4th, winner was Jasmin Achermann. Respect of her great ride !
Enjoyed to see many old friends ! And the warm bath and the Sunday night chil time with my family by tea, cheese, fresh Mama bread and honey.
ps. cleaning time took me longer than racing time ! I could not read my race number anymore !