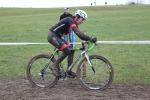 no comment about my face, my cyclocross technic and the guy in the back on this cold Sunday!
I was not that slow, but I don't remember, why my back was so muddy !
thanks Ina for cheering and the photos, and not seeing all the difficult moments on the downhills !
like to know more about the bike; check out Cannondale.com

Cannondale.com