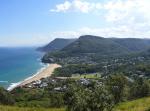 Wollongong is a seaside located city in New South Wales, Australia.
My decision to come here ;
great condition to train for Xterra and triathlon, weather, company, good travel connection for the trip to Saipan, Guam, Philippines and New Zealand, and finally I really like Australia.
Soon will upload more pics about my trainingscamp with Jacqui Slack and Ben Allen, both Xterra Pro athletes and wonderful friends. We are sharing the same race schedule for the Asia tour.