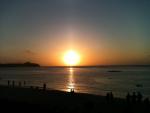 last time I raced in Guam was in 2010.
now I'm back, and I nearly forgot how beautiful the island is and how nice the people are.
the course is still very tough. I had to ask myself after walking the run course (and getting a bit tired); do I get older or has something changed ? the course has not changed....
the bike course starts with a long uphill on the road before getting to the trails. you have to keep your eyes open not to miss a blue arrow and to get lost on this tricky course, too easy.
the swim is 1500m, longer than in 2010. it is ok, then swimming in this water is just a pleasure ! crystal clear, colorful fishes, no big waves...
more news soon,
hafa adai
Renata

xterraguam.com