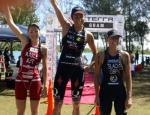 XTERRA President Janet Clark was on hand to take in all the action and brings us this colorful report on the days' adventure...
The first of the XTERRA Asia Tour's "Triple Crown" is in the history books with the inaugural XTERRA Guam Championship. XTERRA has held a race on Guam since 2006, initially as part of the XTERRA America Tour point series races - an opportunity for locals in the region to hone their skills and held in close proximity to the XTERRA Saipan Championship to lure a number of pros to the island over the years. But thanks in large part to the Guam Visitors Bureau, and a host of other sponsors, race director Eric Tydingco, has finally achieved his long term dream of "Championship racing for Guam" with much sought after slots to the XTERRA World Championship and $15,000 in prize money for professionals.
The stars were out in force – with a highly competitive pro field traveling from around the globe - Australia, Europe, and the U.S. – and a record turn-out of age groupers and twenty teams representing Canada, Japan, several U.S. states, Saipan and Guam.
As the sun rose over Port Authority Beach, the race began with a deep water start and two laps of 750-meters. First out of the water were local boys Soujyu Usui (team swimmer) followed by Josh Alba. Only a few seconds back was Australian pro Ben Allen in 19:45 with Colorado's Branden Rakita (USA) 20:57 and Olivier Marceau (SUI) 22:40. The first woman out of the swim was U.K.'s Jacqui Slack 23:09 in 8th overall and 4th pro swimmer. Saipan's Mieko Carey was second woman out of the water. Of note, 10th placed swimmer overall was local 7th grader, 13 year-old Justin Fell. Remember that name…he's determined to make it big.
Out on the 31K bike course, 2,400 total feet of climbing awaited, starting with a grueling ascent on pavement up Nimitz Hill, but from there it was true mountain biking –red dirt, slippery mud with sections that resembled quick sand, "oompah loompah" oopdy doops, and fast descents- enough to test even the most accomplished biker.

The Women's Race
Swiss Miss Renata Bucher blew the women's field away, taking 1st place by 15 minutes in 2:46:11 over Austria's Carina Wasle. Her win was good 7th place overall. It was also her 2nd win in Guam. She won the race in 2010 and finished 2nd in 2007 and 2009. "I definitely had a good race," Bucher said. "I kept up in the swim and it is an advantage that I know the course. I've been training in Australia since the end of January, so I feel good." Looking forward to the next few weeks, she is surely a favorite for multiple wins. "Philippines I know already and Saipan is my favorite race – I know it will be a really good time," she said.
The diminutive Carina Wasle took second in 3:02:26. "It is a really challenging course," she said. "I didn't imagine that running through the river would be so hard. The bike course is incredible – going down you never see where you are going and there's lots of bumps and holes – you have to be very careful. Everyone who finishes is a hero".
"I look forward to the rest of the XTERRA Asian Tour. It is fantastic. All the islands are beautiful and you escape the winter. Everyone should come and race here."
UK's Jacqui Slack finished in 3rd – after a strong swim, she took a wrong turn on the bike course and added about 10 minutes to her time. Saipan's Mieko Carey (2011 and 2008 XTERRA Guam women's champ) took 4th.
The most inspiring performance of the day was that of former XTERRA World Champion and cancer survivor Jamie Whitmore. Whitmore won this race in 2006 at the peak of her XTERRA professional career. This time, she finished 86th, taking 1st place in the Challenged Athlete division in 4:52:09. "It feels good to be back," she said. "My pedal came off three times in the bike and I only walked three hills, but it is definitely different when it comes to the run, as there is no running…I need to practice more with the crutches, and I will figure it out". Whitmore's husband Courtney Cardenas, also raced today and finished 4th in the 35-39 division.
| | | | |
| --- | --- | --- | --- |
| Pl | Name | Country | Time |
| 1 | Renata Bucher | SUI | 2:47:25 |
| 2 | Carina Wasle | AUT | 3:02:26 |
| 3 | Jacqui Slack | GBR | 3:07:10 |
| 4 | Mieko Carey | JPN | 3:14:22 |